A month ago, I led a team that won Taipei's inaugural Startup Weekend. I wrote an article on lessons learned from that weekend that to date is the most read article on my blog. So I thought I would capitalize on that by releasing a follow up article, on the 7 lessons I've learned in the month that has followed.
1. Know your Market
It's hard enough trying to build a business in your own backyard. Try doing so in a different country with a different language and culture!
Our product is a website that lets you search menus of restaurants nearby to find the exact dish you are looking for. Although I was already sold on this idea, one of the requirements of startup weekend is that you first survey your market to find a pressing need that you're trying to solve. This took a while for us – finding just the right questions to ask, and then going out and finding people to complete our survey.
Was all of this effort really necessary?
Well it turns out it was. Not only did it validate our business model – people like to search for new restaurants in Taiwan, they like to see a menu before entering a restaurant, but currently most restaurants don't have searchable menus online – but it also pointed us in the right direction. We now knew that the quality of food was more important than the location of the restaurant. It also pointed us towards some of the current solutions that people were using, that they were finding inadequate.
Even now, a month later, I find myself constantly going back to the results of that survey, when deciding how to move our product forward.
2. Test your Assumptions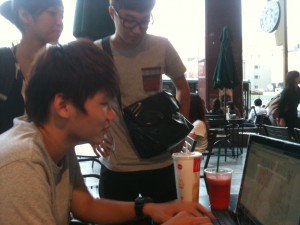 As you build your business forward, it is important to make sure you are on the right track at all times. You can find out by constantly testing your product with your users, and evaluating their feedback.
Since we didn't have a product to begin with, we began by picking a small area of our city, and gathering menus from 250 restaurants in that area. We then built our website around that data and showcased it to passers by in the area. Their feedback was quite valuable. In addition to validating our model further, we were able to gather feedback on our user interface and ways to improve it.
I was quite prepared for them to tell me they hated the site and wouldn't use it, in which case I would have wanted to know why. However that wasn't the case this time around.
We plan to revisit this approach, each time we make new changes.
3. Share your Progress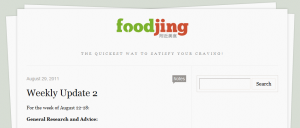 The startup culture is fairly new in Taiwan, so we have a close relationship with the community. After the success of my initial lessons learned post, I decided to release weekly updates on our startup blog. I noticed a couple of side effects to this process.
It forced me to organize and get on track. Every week I had to compile a list of all our accomplishments, as well as targets for the following week. I found myself working harder to make sure I had something to write about at the end of the week!
It put the pressure on us to follow through. Knowing that people are reading about our goals forces us to be more accountable towards reaching them.
It promotes you, your team and product. In the events that have followed Startup Weekend, I've been surprised to meet people who already knew a lot about my team, from the updates I've been posting. This way, if an investor or someone who can advise you comes along, they can find out all they need to know about you. If a blogger wants to do some background research on you before writing an article, you've provided all the research needed!
4. Make Connections.
I joined Startup Weekend to meet people who could join my team, and find potential investors. Since then however I've discussed that everyone you meet can help you out in some way or the other. Here are the types of people I've met:
Other team members. They have been a great source of encouragement as well as learning. Hearing about the challenges and issues that other teams are going through gets me thinking about ways to avoid the same issues on my team. Hearing about their successes inspires me to do the same with my team.
Media. Winning Startup Weekend brought us attention through all the media articles that were written about us. Since then, I've realized the value of talking to bloggers, who may be the key to getting you noticed in the future.
Investors. It goes without saying that you want to make sure you are on the radar of all potential investors. The best way to do that is by talking to them, and having them get to know you. Most investments are made in the team themselves, rather than the idea, so start the process by chatting with them.
Advisers. Even if people aren't willing to invest direct in you, they can still provide you a lot of value through their guidance and advice. Several high quality mentors have been made available to us in the process. It would be much harder to find these people on your own, so take advantage of them by asking any questions that come along.
People who know people. Even if someone looks like they are not in any of the above categories, it is still in your interest to get to know them. After all, they may know someone who can be of direct help, and an introduction by them may be just what you need!
5. Practice your Pitch.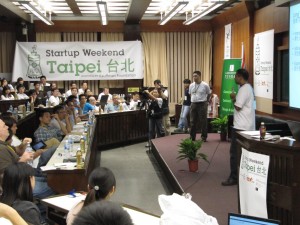 During the initial startup weekend, I got tired of constantly having to explain my idea to each mentor or person that came along to check in on us. However I noticed an interesting side effect of the process. I began to get better at it!
In the beginning, it might have taken me 10 minutes to explain our business model. However with each additional conversation, I was able to get rid of more fluff, until I was eventually able to explain the complete model in a minute or two.
Take advantage of such opportunities to keep refining your pitch. Listen to the questions that are being asked, and practice your answers to them. This process went a long way towards helping us win Startup Weekend through our presentation and being able to answer the questions the judges later asked.
6. Don't Scale Too Early.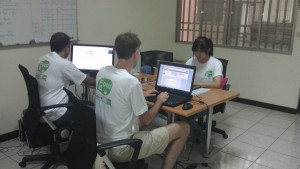 Once you do have your business model going, while it is tempting to expand as quick as possible, so you can take over the world, do so in logical steps. Facebook is the biggest social network in the world today. However they began by first targeting individual universities and colleges and solving any problems that came up there, before eventually growing to new markets.
Keep getting to know your market. Keep testing your assumptions to make sure you're on the right track. This may slow your growth initially but it will help you discover mistakes early on, before they spiral out of control.
7. Enjoy the Journey.
For many of us, this is the first time we are part of a business that has the chance to really go somewhere, with support from people with deep pockets. Take advantage of all the opportunities given to you. Even if your business doesn't become the next Google, make those connections and learn from your experiences. The more times you do it, the better you'll get at it.